BIOGRAPHY
---
Governor's Gallery
In the Spring of 1986 my friend and colleague Sandra D'Emilio, curator at the NM Museum of Fine Arts (now the NM Museum of Art), was asked by then Officer of Cultural Affairs, Clara Apodaca, if she could recommend anyone for the position of Director of the Governor's Gallery – a program Apodaca had a special fondness for as she had been the one to create the Gallery when she was First Lady in the mid-1970s. D'Emilio later told me that she immediately thought of me since I had a unique combination of art world skills (as noted previously) and political background and connections as my brother Tom was a State Senator at the time and my father Jim had served in the House of Representatives.
Apodaca forwarded my name to Governor Toney Anaya and First Lady Elaine who moved quickly following my interviews to hire me for the now-exempt position –  a perfect example of how the credentials and contacts I had gleaned in my life thus far had positioned me to seize an opportunity I could not have foreseen. The circumstances that precipitated the vacancy involved the refusal of the previous curator – a woman named Elvira Ogard who was well-respected for the level of quality in her exhibition schedule – to act on the First Lady's request to arrange a display of intricately-painted eggs by artist Ruben Gallegos during the Easter season.
There were many challenges I faced during my first year, including a push-back by some staff of the NM Arts Division (NMAD) who viewed me as underqualified, and my appointment as strictly political. In retrospect, I exercised a certain savvy in my approach during this period and there were many actions I undertook which served me well in gradually winning over many of my skeptics.
I determined I would recognize the commitments of the previous curator and implemented the exhibition schedule she had in place when she left – a move that endeared me to those artists, who viewed this as a sign of respect towards the work of my predecessor, and which gave me time to conceive of some exhibitions I would be adding to that early schedule, and which would reflect something about the direction I would chart for the program. And, I arranged to show the elegantly-painted eggs by artist Ruben Gallegos in a display of deference to the Governor and First Lady.
As Stuart Ashman, who succeeded me as Director insightfully sums it up, in the Governor's Gallery "you could really have a diverse program…And you basically set it up [as] there was really no oversight, only your own sense of what's appropriate. I mean if you tried to make an outrageous statement, they probably would have thrown us out. But, you navigate that whole situation with propriety." (Ashman, 2017) In retrospect, I believe my time as Director was enhanced by the fact that I was not really attached to how long I would last in the job, but was instead focused how much I could accomplish regardless of the length of my tenure – a healthy indifference that afforded me a certain freedom to function in an unorthodox manner and pursue projects that were often unconventional.
I did benefit from the fact that my first inherited shows featured some truly talented artists ­– such as Janet Stein Romero, Monika Steinhoff, Ray Belcher, Susan Steffy, Jack Parsons, and Ann Moul – and the works I selected looked great in the gallery, and each exhibition garnered significant newspaper coverage. The early exhibitions which I had conceived of and curated were also well received and stood out from the decidedly more contemporary focus of the selected works and the edgy designs of the printed exhibition announcements. Among these were groups show entitled Expressionist Prints (click for details >>), Landscape / Cityscape, Contemporary Native American Artists (click for details >>), and a major solo exhibition of the Atomic Art of Tony Price (click for details >>).
Critic David Bell would devote a half-page to the Native American show writing that: "Though a small exhibit, and limited to non-traditional work, it's got the most important ingredient of any memorable art show: quality." (Bell, 1986 - click here to view article >>) Writer Harrison Sudborough was effusive in his praise of the Atomic Art exhibition stating that: "Art historians or historical anthropologists may well consider Price's sculptural icons to be the prime artwork of this age…Here is an imprint of one man in our time. Here is an art show that should not be missed. It is unique, expressive, meaningful, fun and beautiful. It is also important. What more can art be?" (Sudborough, 1986 - Click here to view article >>)
            Another experience of this period worth noting occurred as I was selecting works for the Native American show. Artist Bob Haozous approached me about including a new large-scale steel sculpture entitled Bear with Clouds, Planes, and Fish. The piece weighed close to a ton and an outdoor location would be required to display the work. I surveyed the Capitol grounds with Haozous and his dealer Dave Rettig, and we identified a grassy area on the SE corner. While this particular work by Haozous could be considered one of his more tame pieces, I would be come to know him for the biting political and social commentary of his subsequent works, which would profoundly influence my understanding of issues of Native identity and history. I would have the opportunity to work Bob and his father Allan Houser on numerous occasions over the years and my relationship with them has been one of the high points of my career.
            Until that time there was no precedent for the display of outdoor sculpture at the Capitol save for a couple of traditional bronzes of historical political figures. I approached the Legislative Council Service (the landlord of the Capitol) whose longtime Director, Clay Buchannan, had been acquainted with my work and family connections, and thus was perhaps more inclined to give me the go-ahead to place the work. This installation was exhilarating for me as it was a bit subversive and marked the de-facto beginning of a sculpture garden on the Capitol grounds. It represented the kind of out-of-the-box projects that would define my tenure at the Governor's Gallery and would be followed in coming years with numerous temporary and permanent displays of monumental works by such notable sculptors as Luis Jimenez, Allan Houser, David Anderson, Edwin Rivera, Doug Coffin, Michael Naranjo, Doug Hyde, Estella Loretto, R.C. Gorman, Dan Namingha, Glenna Goodacre, and others.
(Click here to view article >>)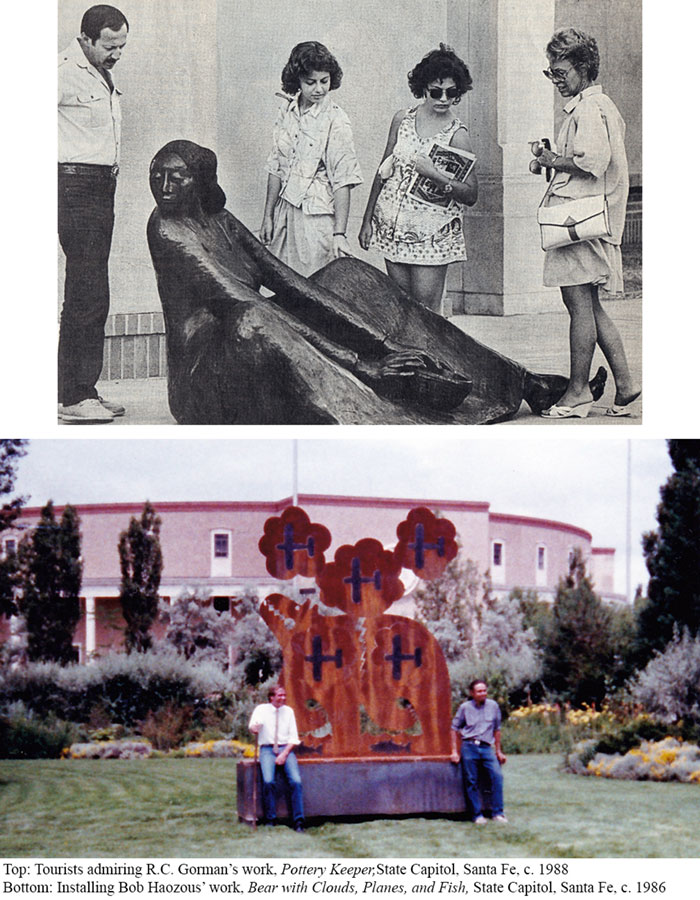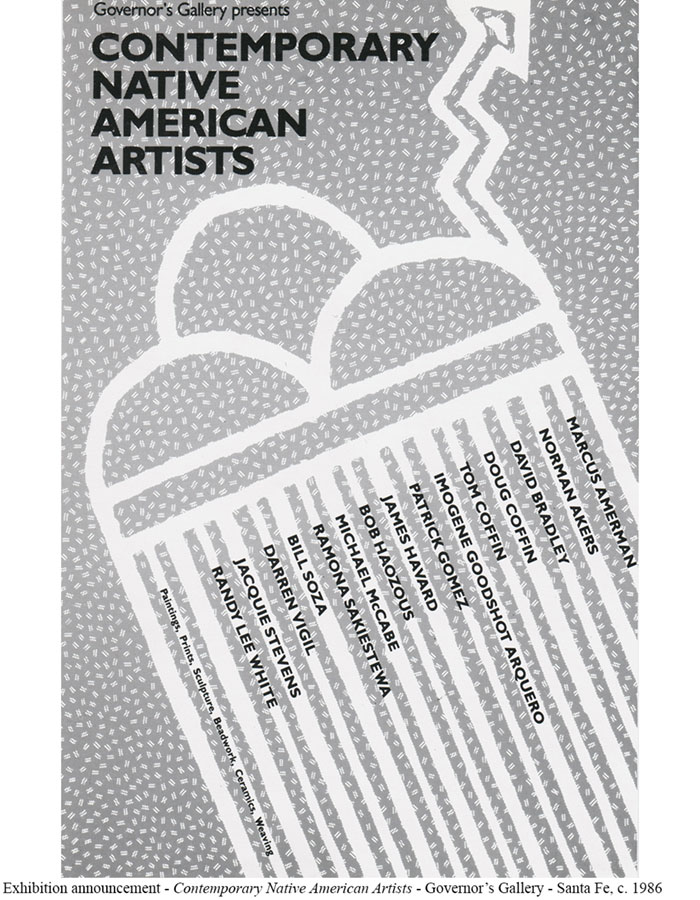 I also enjoyed favorable press about me personally in an article by Suzanne Jamison which stated: "The 26-year-old Rutherford's boyish charm is unpretentious … enthusiastic with insight fresh from recent discovery, outlining the exhibitions he has planned, the future he hopes to create and how he hopes to use the curator's position to assist artists in the state." (Jamison, 1986 - click here to view article >>) As a result of this type of recognition in the press I came to realize early on the enormous role the media played in the art world and how the standing of my programs would be enhanced by cultivating relationships and engaging with the press to the fullest extent possible. My efforts were made more productive in part due to the cachet of my Governor's staff credentials and easy access to the Capitol press corps, and I consider the volume and quality of the media coverage I have garnered over the years as one of my more beneficial career successes.
One of my champions and mentors in my early days of working for the arts in government was Tisa Gabriel, Director of the NM Arts Division, which was the fiscal and administrative location of the Governor's Gallery Director's position at various times. Gabriel was a savvy bureaucrat and advocate who at that time, after several years of effort, had finally been successful in getting legislation passed that created the Art in Public Places program (AIPP) – a landmark law (co-sponsored by my brother Tom) that greatly enhanced New Mexico's reputation as a leader in arts and culture and, to date, has resulted in the purchase and placement of hundreds of pieces of public art spread across all the state's 33 counties. Gabriel and I would team up again in 2015 to organize artists and arts organizations in a successful fight against efforts in the legislature to sweep funds from the AIPP program that year (click here to view article >>).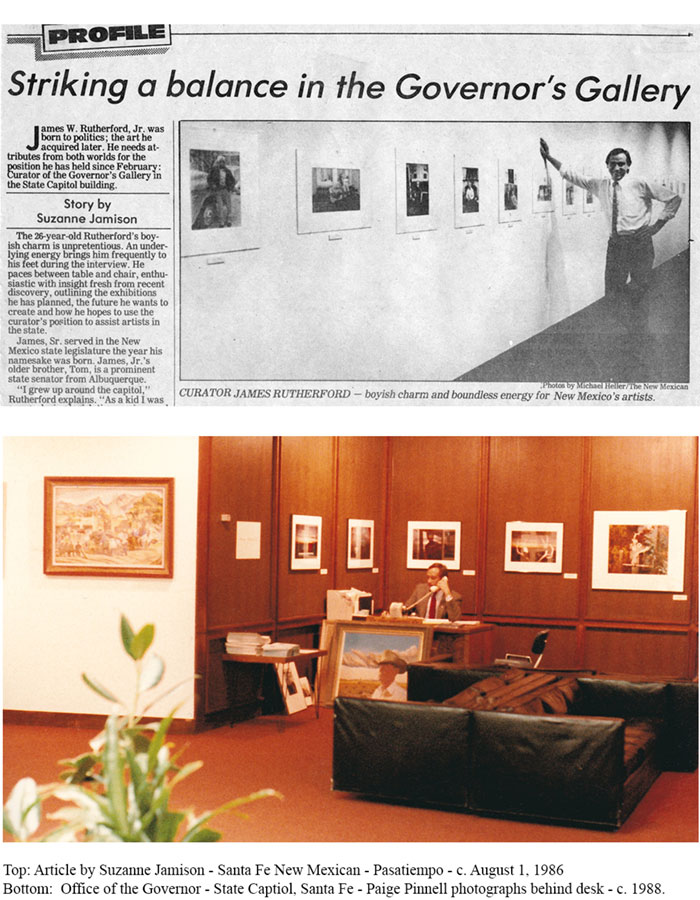 As the Governor's Gallery Director between the spring of 1986 and the spring of 1992 I organized more than 50 exhibitions, and in addition to implementing the show schedule, I was frequently responsible for acting as a liaison for the Executive Branch on cultural matters. One of the perennial assignments in this capacity was to work with the NM Arts Commission in coordinating activities surrounding the annual Governor's Awards for Excellence and Achievement in the Arts – a program established in 1974 by Governor Bruce King and First Lady Alice King to "celebrate the role that artists, craftspeople, and arts supporters play in the cultural and economic life of New Mexico." (Web, 2017)
The 1986 Awards were my first and included New Mexico art luminaries such as Van Deren Coke, Doris Cross, Elmer Schooley, Cleofes Ortiz, and Max Roybal (click for details >>). My job would be to obtain artworks and materials to display in an exhibition at the Governor's Gallery, assist with publicity, and coordinate the participation of the Governor and First Lady in the awards ceremony and gallery reception. The stature of those being recognized meant the Awards were always a highpoint for the Governor's Gallery that encapsulated a truly statewide recognition of the arts. During my tenure, I had the honor of organizing exhibitions for an impressive list of recipients including many other notables such as Larry Bell, Tony Hillerman, Pop Chalee, Garo Antresian, and others.